Got Talent?
PTW Scholarship Award Competition
Want to take your skills to the next level?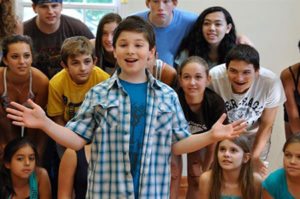 Study with top arts educators who are also professional performers on Broadway or Film/TV! PTW has over a quarter of a century of experience training and inspiring students to reach their potential and have fun!
 
Auditions will be held June 12, 2017 - June 22, 2017
Prepare 16 measures of a song, a short monologue, OR a short dance routine for audition.
ALL new participants will receive a $100 scholarship for any PTW class or program
Current or former PTW students are not eligible to audition
* There will be a 1st, 2nd, and 3rd prize winner in each age category: ages 8-10; 11-13; and 14-16.
* Scholarships awarded can be applied to any PTW Classes or PTW Programs, such as the PTW Summer Conservatory, Professional Track, College Preparation Track, or NYC Broadway Showcases for Agents and Managers.
Audition slots are limited to 25 students per age group and are scheduled on a first come, first served basis.
NOW AUDITIONING!
Actors, Dancers, Singers age 8-16 PTW Scholarship Award Competition
1st Prize:
$1500 PTW Scholarship* and a $500 Cash Prize
2nd Prize:
$1000 PTW Scholarship*
3rd Prize:
$500 PTW Scholarship*
PTW Esther & Howard Kravitz Scholarship Fund, established to give talented actors, singers, and dancers in NJ an opportunity to get top-notch training through scholarships awarded based on need and/or merit.
Download the Scholarship Flyer
Call to schedule your audition and see what Performers Theatre Workshop can do for you!